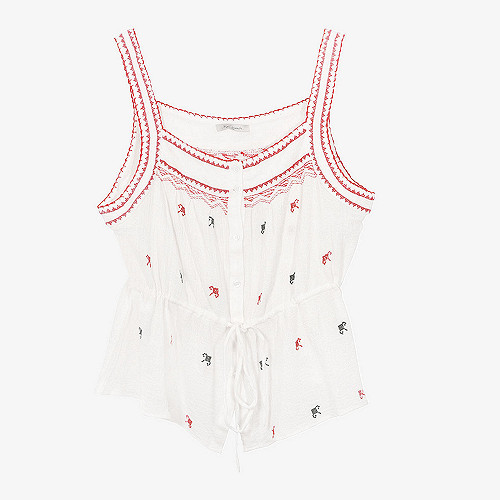 top Fairy
Top Fairy color ivory
Top
Women's top by Mes Demoiselles... Paris, house of women's ready-to-wear fashion.
This embroidered cotton top with straps has a row of buttons in the front.
Its straps are decorated with thin lines of contrasted embroidery.
The soft, rounded collar is also enhanced by playful contrasting stripes.
Fine, delicate colorful embroidery runs along the garment and adds a touch of.
Light and feminine, let yourself be tempted by its cut adjusted with cord that allows you to tighten it at the waist and show off your figure.
Pair it with the Pickett jeans by Mes Demoiselles... Paris, for a look that is feminine and relaxed.
Available in Ivory.

The Mes Demoiselles... Paris fashion house creates sublime women's fashion in its Parisian studio.
The unique and timeless Mes Demoiselles... Paris creations are made from high-quality materials, using a hand-crafted, traditional savoir-faire.
Mes Demoiselles... Paris is a story of passion, an invitation on a voyage, an ode to femininity... the quintessence of bohemian chic.
Top