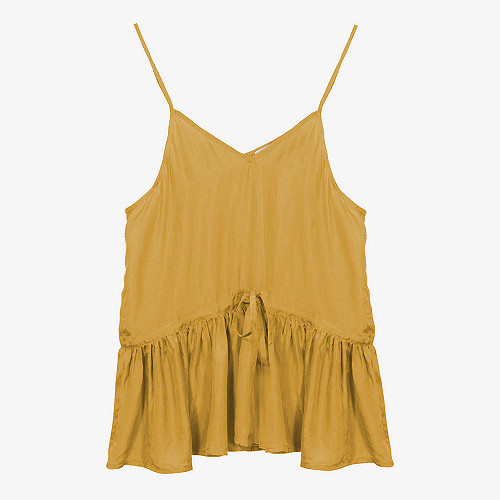 Article out of stock, you can click here to see top available
top Elvira
Top Elvira color cumin
Top
Women's top by Mes Demoiselles... Paris, house of women's ready-to-wear fashion.
This ultra-feminine top has a V-neck showing off the bust and thin adjustable straps.
A flounced yoke, created from a succession de pleats at the waist, adds a feminine touch the garment.
Un thin drawstring allows you to play with the overall fullness of the garment cinching in at the waist.
Finish off your look with the Attila pants and the Beauvoir kimono by Mes Demoiselles... Paris, for a bohemian-chic look.
Available in Cumin, Plum and Amber.

The Mes Demoiselles... Paris fashion house creates sublime women's fashion in its Parisian studio.
The unique and timeless Mes Demoiselles... Paris creations are made from high-quality materials, using a hand-crafted, traditional savoir-faire.
Mes Demoiselles... Paris is a story of passion, an invitation on a voyage, an ode to femininity... the quintessence of bohemian chic.
Top