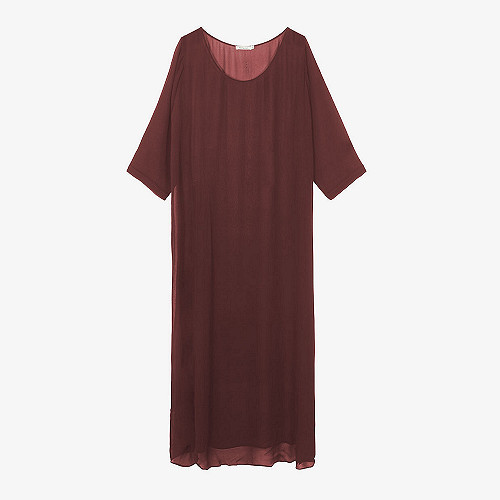 Article out of stock, you can click here to see dress available
dress Slow
Dress Slow color parma violet
Dress
Women's dress by Mes Demoiselles... Paris, house of women's ready-to-wear fashion.
This long silk dress with three-quarter sleeves has a large collar topple over the shoulders.
A drawstring on the side allows you to play with the length of the garment and reveal your jambes.
Amuse yourself by creating the asymmetry of your desires to add flare to your look.
Accessorize the silk dress with the Boundary high-heeled shoes by Mes Demoiselles... Paris, for a style that is resolutely chic and elegant.
Available in Emerland, Ivory, Powder, and Grape.
(Sold with a separate lining)

The Mes Demoiselles... Paris fashion house creates sublime women's fashion in its Parisian studio.
The unique and timeless Mes Demoiselles... Paris creations are made from high-quality materials, using a hand-crafted, traditional savoir-faire.
Mes Demoiselles... Paris is a story of passion, an invitation on a voyage, an ode to femininity... the quintessence of bohemian chic.
Top