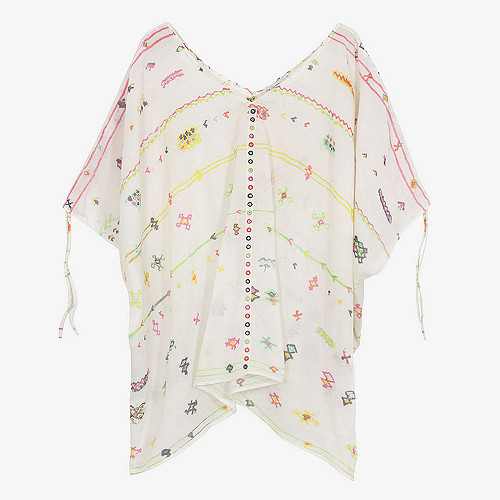 poncho Salah
Poncho Salah color floral print
Poncho
Women's poncho by Mes Demoiselles... Paris, house of ready-to-wear feminine.
This poncho is decorated with a colorful print with abstract patterns, which run along the garment de folkloric stipes.
Its shoulder line is worked with a thin drawstring that allows you to play with the overall fullness of the garment and to choose to uncover the shoulders or not.
Its V-necked collar reveals the neckline.
A vertical line of colored dots enhances the front of the garment.
Let yourself be charmed by the tangy colors of the poncho and its evocations of folk culture.
Wear it with the Corvette raw denim jeans by Mes Demoiselles... Paris, for un casual folksy style.
Available in Multicolor Stipes.

The Mes Demoiselles... Paris fashion house creates sublime women's fashion in its Parisian studio.
The unique and timeless Mes Demoiselles... Paris creations are made from high-quality materials, using a hand-crafted, traditional savoir-faire.
Mes Demoiselles... Paris is a story of passion, an invitation on a voyage, an ode to femininity... the quintessence of bohemian chic.
Top