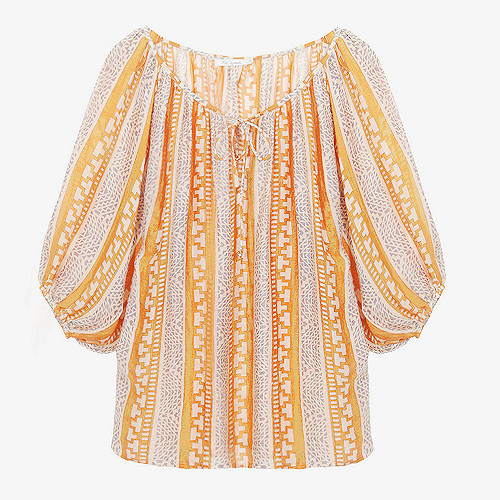 blouse Safara
Blouse Safara color sapphire print
Blouse
Women's blouse by Mes Demoiselles... Paris, house of women's ready-to-wear fashion.
This silk blouse has three-quarter bouffant sleeves tightened by elasticated bands at the cuffs.
Its soft, rounded collar, extends downward into a V attached by two thin tie strings.
Light, let yourself be charmed by the delicacy of the silk, like a caress upon your skin.
Its vertical stripe print add flare the garment and illuminate your summer body.
Pair it with a pair of pumps and the Corvette raw denim jeans Mes Demoiselles... Paris for a casual-chic look.
Available in Combo Safari.

The Mes Demoiselles... Paris fashion house creates sublime women's fashion in its Parisian studio.
The unique and timeless Mes Demoiselles... Paris creations are made from high-quality materials, using a hand-crafted, traditional savoir-faire.
Mes Demoiselles... Paris is a story of passion, an invitation on a voyage, an ode to femininity... the quintessence of bohemian chic.
Top